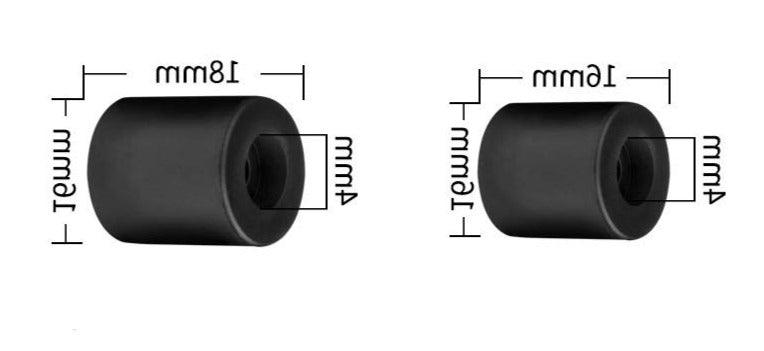 Sovol Leveling Knobs and Silicone Leveling Columns for Sovol, Creality CR/Ender Series - EU (to EU only) / Silicone Leveling Column*4
for SV01/SV01PRO/SV02/SV03/SV04/SV04PRO/SV05/SV07/SV07 Plus
Ship from:
EU (to EU only)
Option:
Silicone Leveling Column*4
Delivery

Ship in two days
Delivery Time: 3-7 Days

Free Shipping & 14 Days Return
Our 14-Day Money Back Guarantee, Free Exchange & No-Hassle Returns

Shipping from local overseas warehouse
*
Order will be fufilled within 8 hours.
Order will be fufilled within 8 hours.
Fraud Prevention: Your Payment is Safe & Secure.
● 1-year Warranty & 14-day Return for 3D Printer 
1 Month Warranty for accessories
Every printer comes with the warranty of 12 months, and we offer 14-day exchange/refund/return guarantee.
Learn more
● Technical Support
Sovol Support Team is available via email and live chat.
Join Sovol User Group to get tips from employees and community.
Leveling Knobs

1. Material: Aluminum

2. Upgraded aluminum hand twist level nut makes the hotbed more stable and print platform leveling easier.
3. Suitable for SV01/SV01PRO/SV02/SV03/SV04/SV04PRO/SV05/SV07/SV07 Plus, Ender-3/
Ender-

3 Pro/

Ender-

3 X, Ender-5/

Ender-

5 Plus/

Ender-

5 Pro, CR-10/CR-10 V2/CR-10 Max/CR-10 V2/CR-10/CR-10 Mini/CR-10S/CR-10S Pro/CR-10 Plus/CR-X/CR-20/CP-01
Silicone Leveling Columns
1. The silicone leveling columns are simply installed instead of the wobbly springs. It is stable and does not shake when used, better to keep your 3D printer leveled.
2. Suitable for Sovol SV01/SV01PRO/SV02/SV03/SV04/SV04PRO/SV05/SV07/SV07 Plus/Ender-3/Ender-3 Pro, Anet A8, Prusa i3 Mega4


Material: Silicone
Model: 3 high silicone leveling columns and 1 short silicone leveling column

Feature: Assist 3D printer leveling

Silicone: Heat-resistant and pressure-resistant

Diameter: OD 0.63"(16mm), ID 0.16"(4mm)

Height: High 0.71"(18mm), Short 0.64"(16.2mm)
Package List:
Hand Twist Leveling Knob*4
High silicone leveling column*3
Short silicone leveling column*1