Sovol SV02 Dual Extruder 3D Printer 280*240*300mm Touch Screen Silent Board - Default Title
Delivery

Ship in two days
Delivery Time: 3-7 Days

Free Shipping & 14 Days Return
Our 14-Day Money Back Guarantee, Free Exchange & No-Hassle Returns

Shipping from local overseas warehouse
*
Order will be fufilled within 8 hours.
Order will be fufilled within 8 hours.
Fraud Prevention: Your Payment is Safe & Secure.
● 1-year Warranty & 14-day Return for 3D Printer 
1 Month Warranty for accessories
Every printer comes with the warranty of 12 months, and we offer 14-day exchange/refund/return guarantee.
Learn more
● Technical Support
Sovol Support Team is available via email and live chat.
Join Sovol User Group to get tips from employees and community.
Sovol SV02 has been out of production, please check out other Sovol printers, thanks for your support!
| | | | |
| --- | --- | --- | --- |
| | | | |
| Printing Technology | Dual Extruder (2-in-1-out hotend) | Direct Drive Extruder | Direct Drive Extruder |
| Build Volume | 280 x 240 x 300mm | 280 x 240 x 300mm | 350 x 350 x 400 mm |
| Mainboard | TMC2208 Silent Board | Support Silent Board | TMC2208 Silent Board |
| Auto Leveling | Support BL Touch | Support BL Touch | Preinstalled BL Touch |
| Filament Runout Sensor | No | Yes | Yes |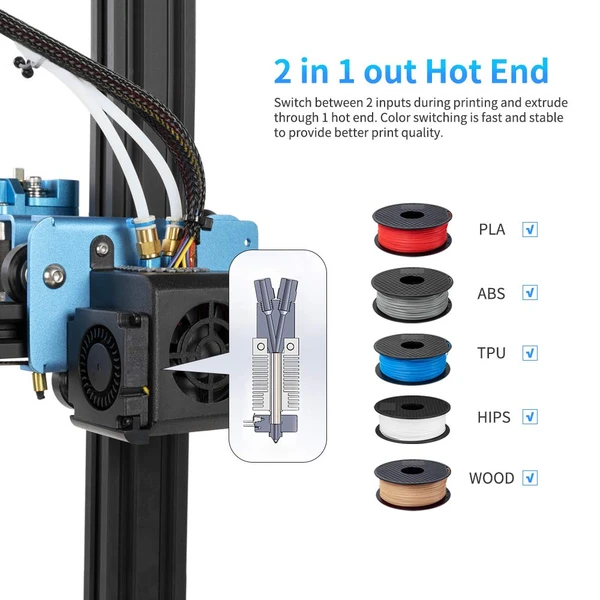 Technical Specifications
● Extrusion Technology: Dual Extruder (2-in-1-out hot end)
● Layer Resolution: 0.1mm
● Positioning Accuracy: X/Y 0.012mm Z 0.001mm
● Supported Print Materials: PLA, TPU, HIPS, ABS, PETG, WOOD
● Print Speed: 20~120mm/s(suggested 60mm/s)
● Stock Nozzle Diameter: 0.4 mm
● Build Size: 280*240*300mm (11"x 9.4"x 11.8")
(Dual color: 240*220*300mm)
● Operational Extruder Temperature: Max 260ºC
● Printer Dimensions: 539mm (L) x 493mm (W) x710mm (H)
● Package Dimensions: 620mm x 570mm x 290mm
● Input Formats: .STL, .OBJ, .DAE, .AMF
● Ambient Operating Temperature:8ºC - 40ºC
● Connectivity: SD Card or Data Cable
● Net Weight: 11.86kg
2-in-1-out Hot end leads to faster and more stable color switching with more accurate extrusion, giving you a perfect multi-color print without obvious defects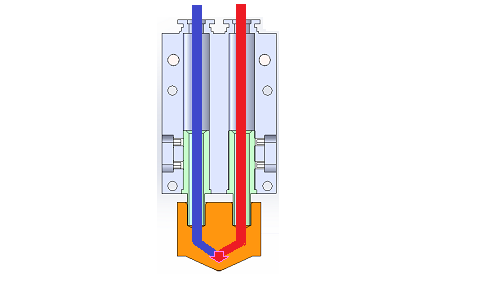 Mixing Hotend provides gradients and mixing color function, with no purging tower. (Please note that a mixing hot end is an additional add-on.)
Built-in Silent Motherboard, Backed by TMC2208 ultra-silent driver which functions quieter, has excellent stability and protection for the 3D Printer.
Built-in Meanwell power supply ensures stable and sufficient power, heating up the hotbed and nozzle fast. A certified power supply also can protect your printer from unexpected power surges.
Dual Z-axis with two stepper motors drives the vertical axis of the SV02, improving accuracy and precision, resulting in a specified Z-axis accuracy of 0.001mm. add a "pro" level to the printer.
BL Touch is an optional add-on for SV02 which will make adjustments to ensure the bed and nozzle are at an optimum distance throughout the printing, which improves bed adhesion and print quality.
The resume printing function allows you to turn off SV02 while printing, and resume your print from the last layer anytime later.
4.3-inch Color Touchscreen Comes with a 4.3-inch LCD touchscreen color display. The first 3D printer equipped with a portrait screen in the market.
3 cooling system leads to a better cooling function, giving you a perfect multi-color print without any obvious defects.