Sovol SV06 Plus Fully Open Source 3D Printer 300*300*340mm - US
● Print Size: 300mm*300mm*340mm
● Print Speed: 150mm/s
● 4.3 Inch Touchscreen
Delivery

Ship in two days
Delivery Time: 3-7 Days

Free Return & Exchange
Our 14-Day Money Back Guarantee, Free Exchange & No-Hassle Returns

Shipping from local overseas warehouse
*
Order will be fufilled within 8 hours.
Order will be fufilled within 8 hours.
Fraud Prevention: Your Payment is Safe & Secure.
● 1-year Warranty & 14-day Return for 3D Printer 
1 Month Warranty for accessories
Every printer comes with the warranty of 12 months, and we offer 14-day exchange/refund/return guarantee.
Learn more
● Technical Support
Sovol Support Team is available via email and live chat.
Join Sovol User Group to get tips from employees and community.
●Operation Language: English
●Print Size: 300mm*300mm*340mm
●Recommend Printing Speed: 150mm/s
●Printing Accuracy: ±0.001mm
●Nozzle Diameter: 0.4mm (Replaceable)
●Nozzle Temp: ≤300℃
●Hotbed Temp: ≤100℃
●Diameter of Filament: 1.75mm
●File Format Support: G-Code
●Voltage: Input 115/230V, 50/60HZ, Output 24V
●Operating System: Windows, Linux, Mac
●Power Supply: 500W/24V
●Printer Size: 538mm*488mm*707mm (Including filament holder)
●Package Size: 640mm*580mm*240mm
●Package Weight: 13.97kg
All Metal Planetary Dual Gear Direct Drive Extruder
Sovol self-developed All Metal Direct Drive Extruder with a planetary gear set, provides the printer with a higher driver ratio and a higher motor, helping to achieve more accurate extrusion.
300℃ High Temp All Metal High Flow Hotend
The melting zone is increased by 10mm than SV06, which enables you to print at 150mm/s speed and various materials.
Fully Open Source
√Step file
√Stl file
√Firmware source code
Classic I3 Structure
Different from most 3D printers run by wheels in the market, SV06 Plus has a classic I3 structure that avoids the wear and tear of wheels and multiple replacements.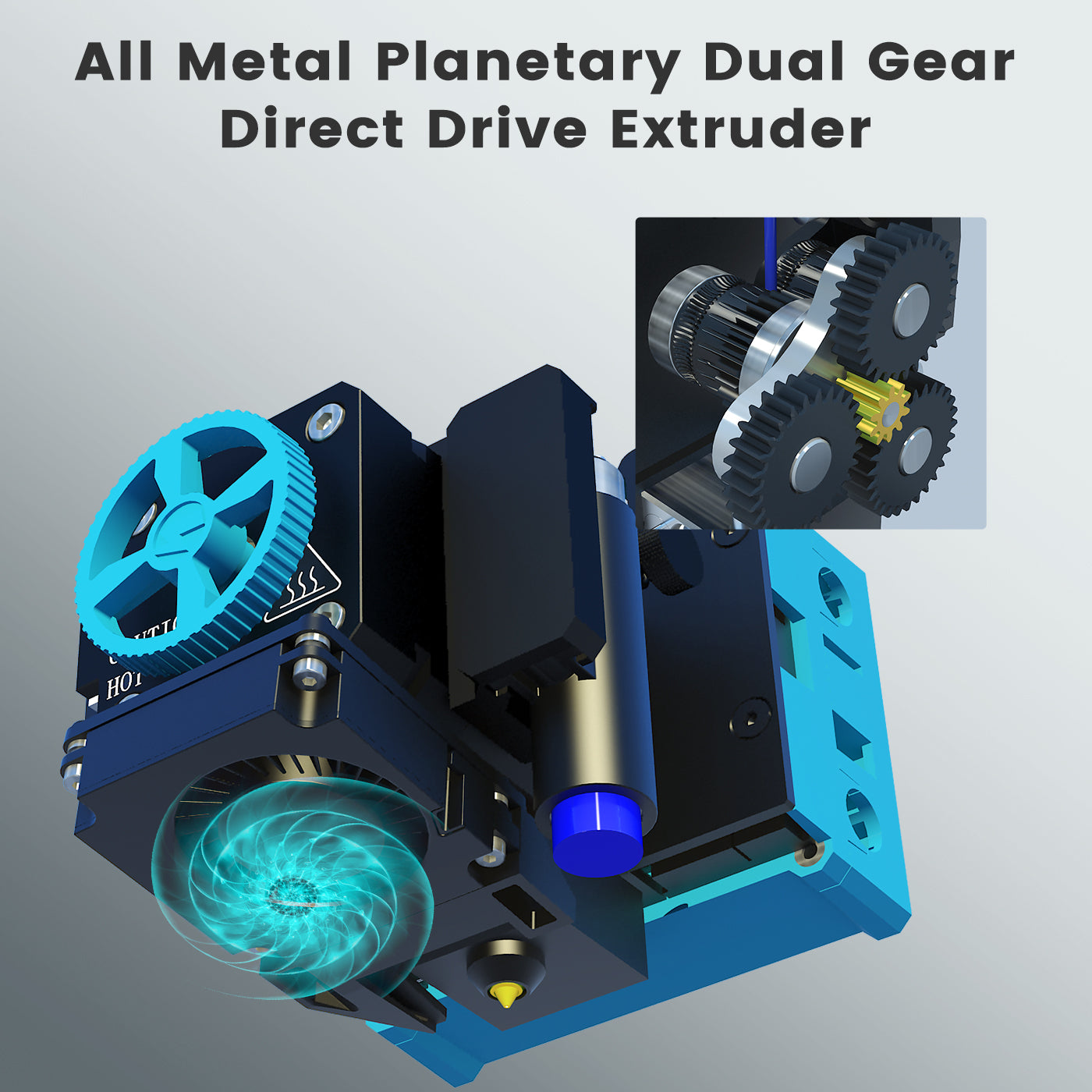 All Metal Planetary Dual Gear Direct Drive Extruder
Sovol Self-developed All Metal Direct Drive Extruder with planetary dual gear set, provides SV06 plus with a higher drive ratio and a lighter motor, helping to achieve more accurate extrusion. Add a large external knob for easy feeding.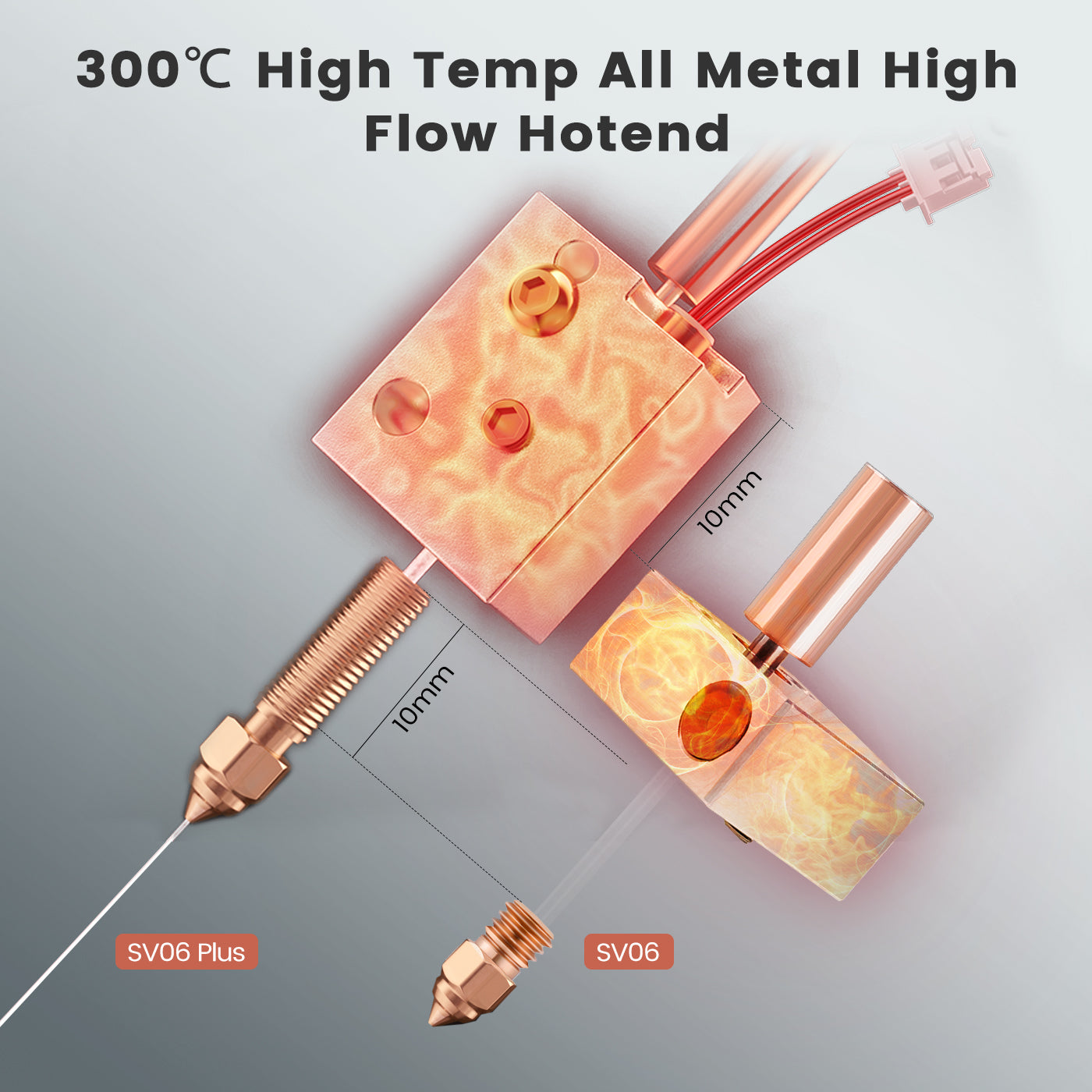 300℃ High Temp All Metal High Flow Hotend
All metal Hotend Setup makes it possible to print up to 300℃. No need to deal with PTFE replacement anymore, and even no need to flash the firmware, you can print with different materials better and more easily. ( Enclosure is still needed if you want to print over 260℃.)
All Metal Hotend with a larger melt zone also enables you to print faster. High Flow up to 20mm³/s to achieve 150mm/s printing speed that greatly reduces the probability of clogging.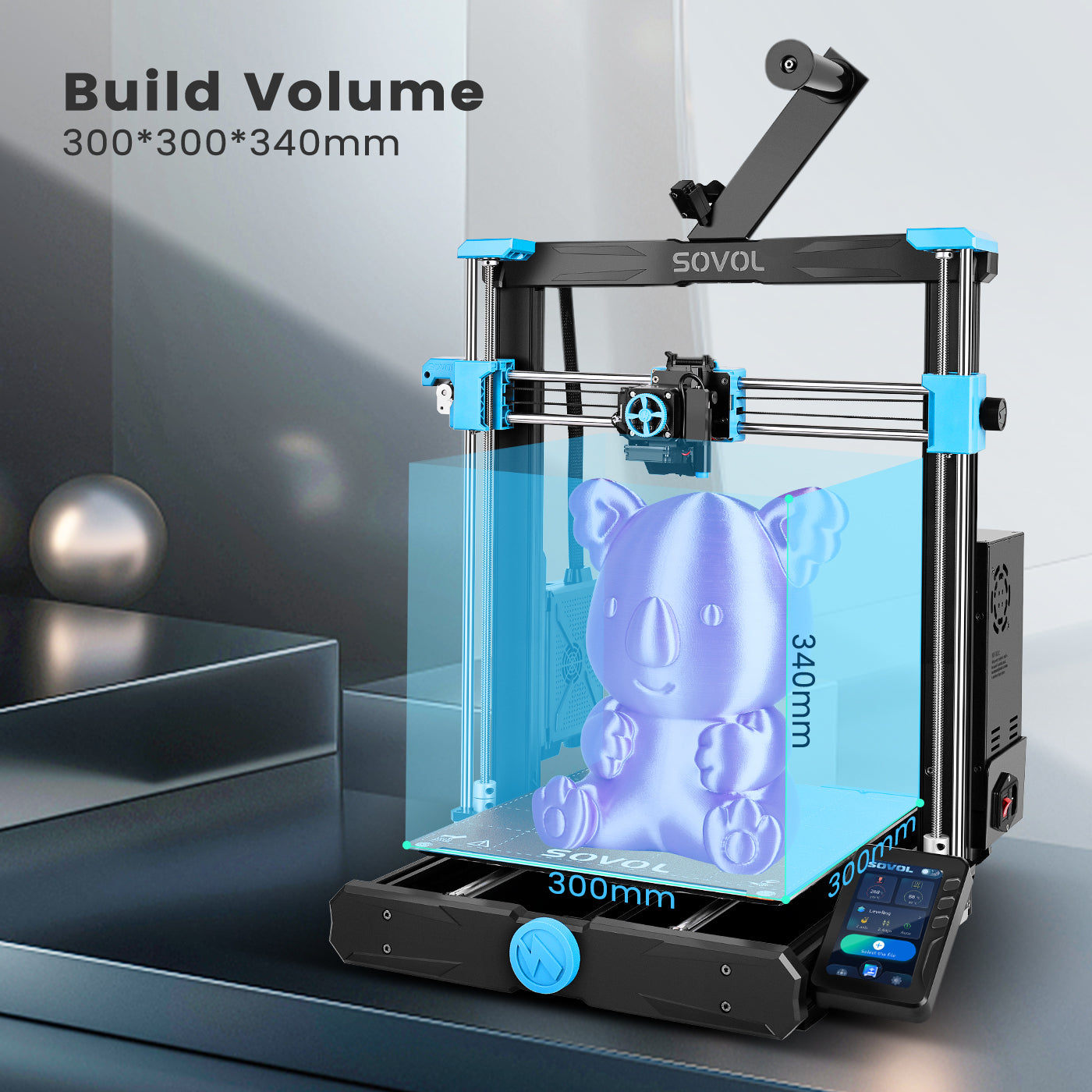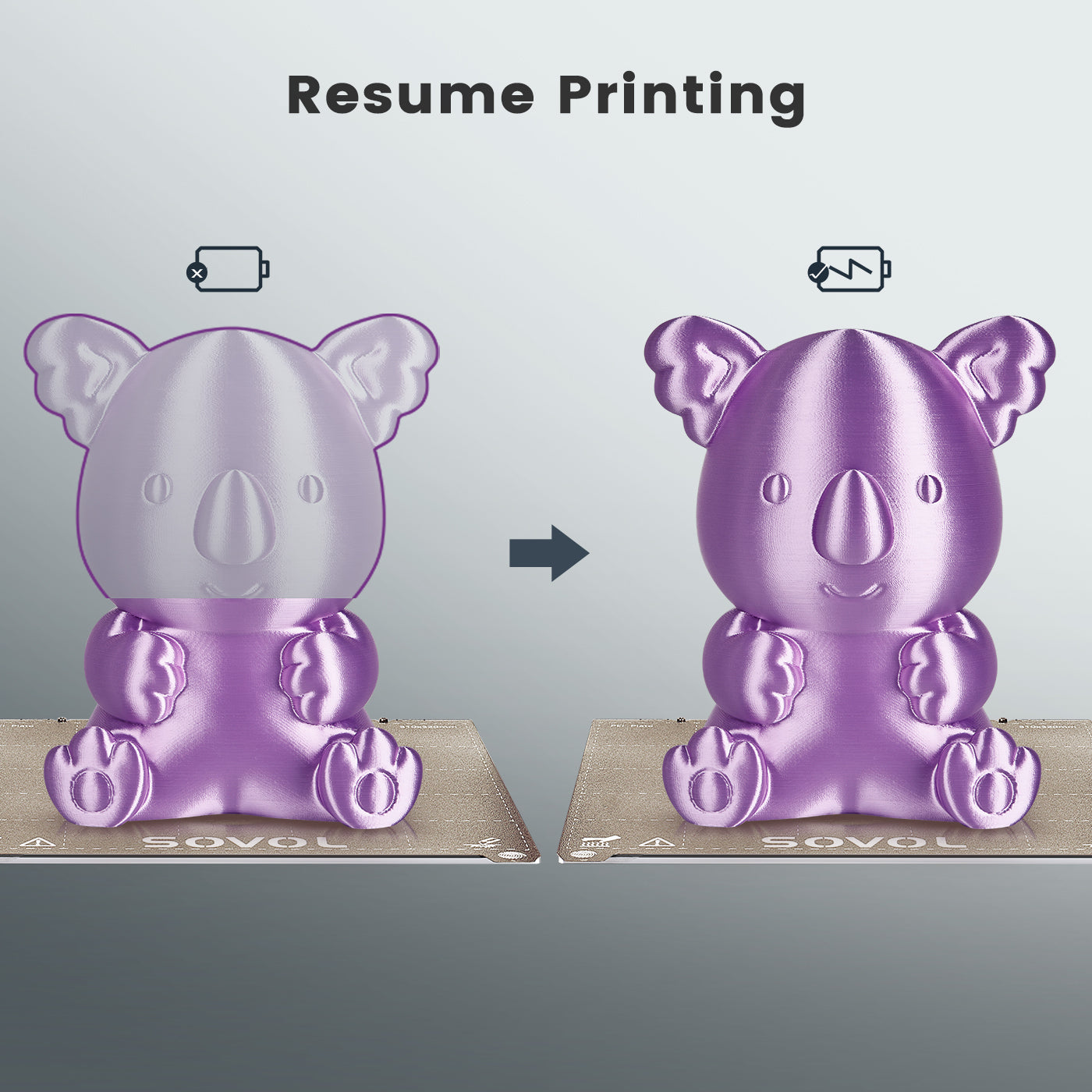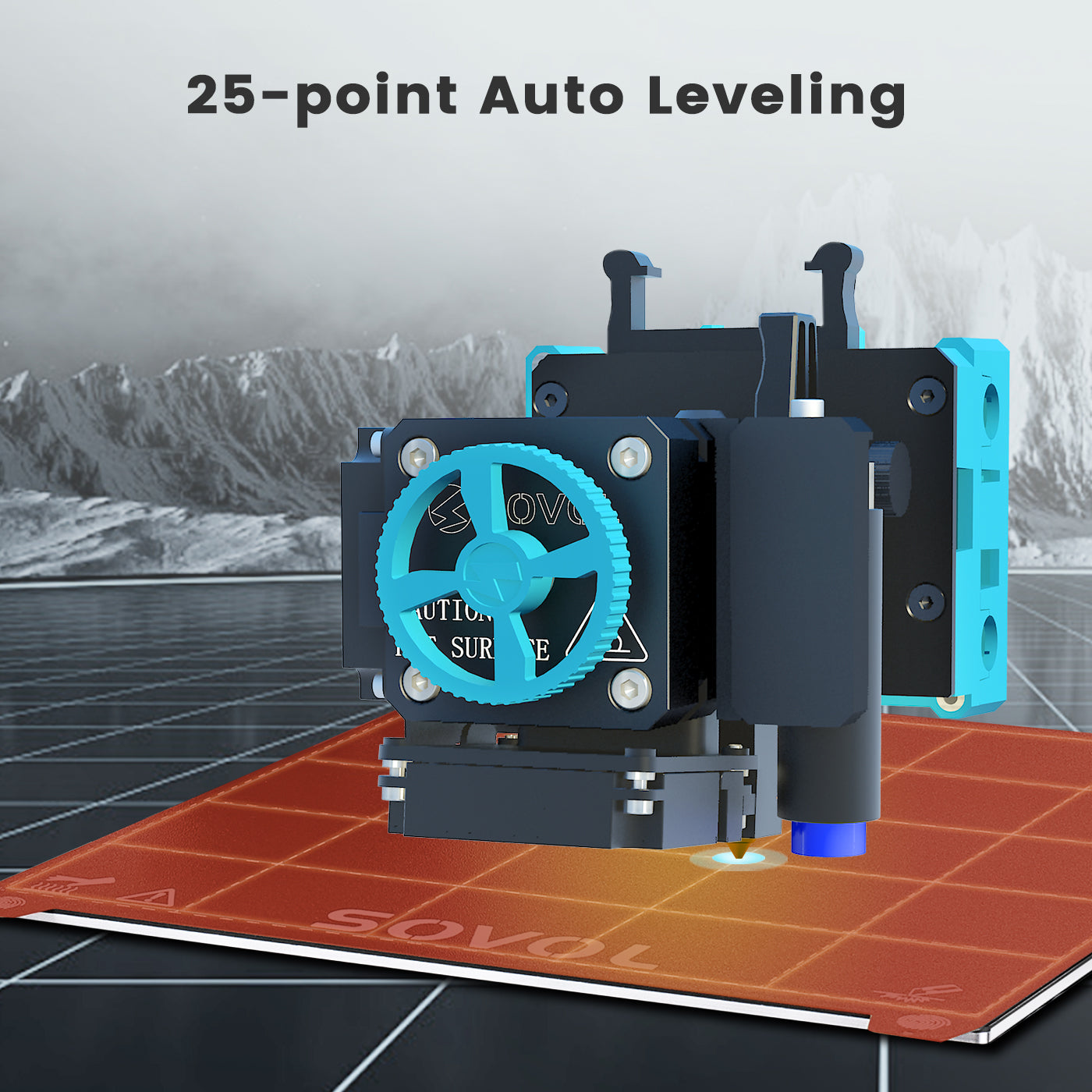 Larger Build Volume
300*300*340mm
300x300x340mm printing size makes SV06 Plus unique among I3 structure 3D printers. Modular design allows you to assemble SV06 Plus within 5 steps easily, more applicable for household use.
Resume Printing
The resume printing function can make the printer continue printing perfectly after a power outage.
25-point Auto Leveling
With an inductive sensor, SV06 Plus detects the metal print bed through 25 points automatically and compensates for the unevenness of the heated bed. The fast, smart, precise detection and compensation help you to get the bed leveled perfectly and get a fantastic first layer. Note: Set the height of the initial layer to 0.3mm when you slice that would help you to print a better initial layer and make the filament stick to the plate better.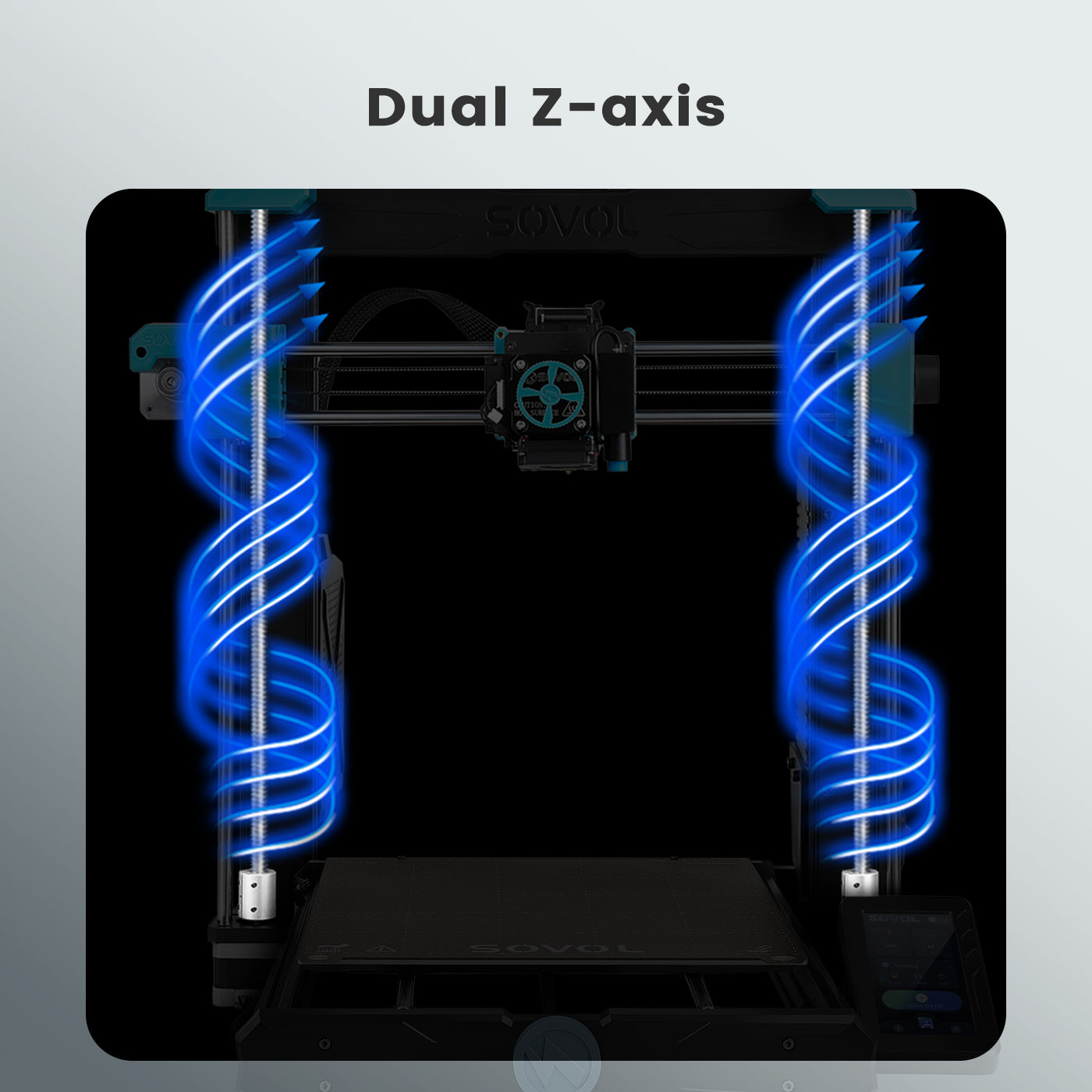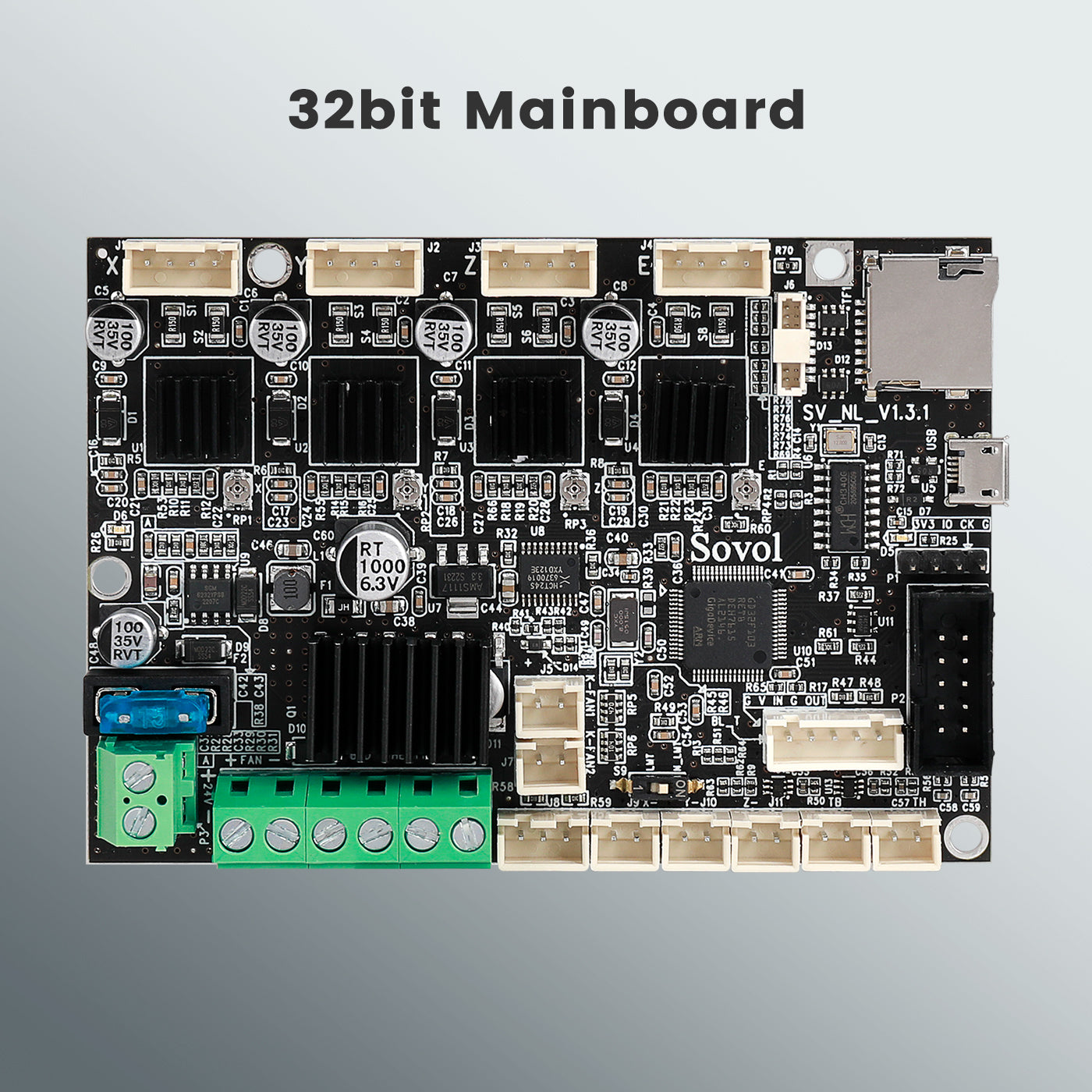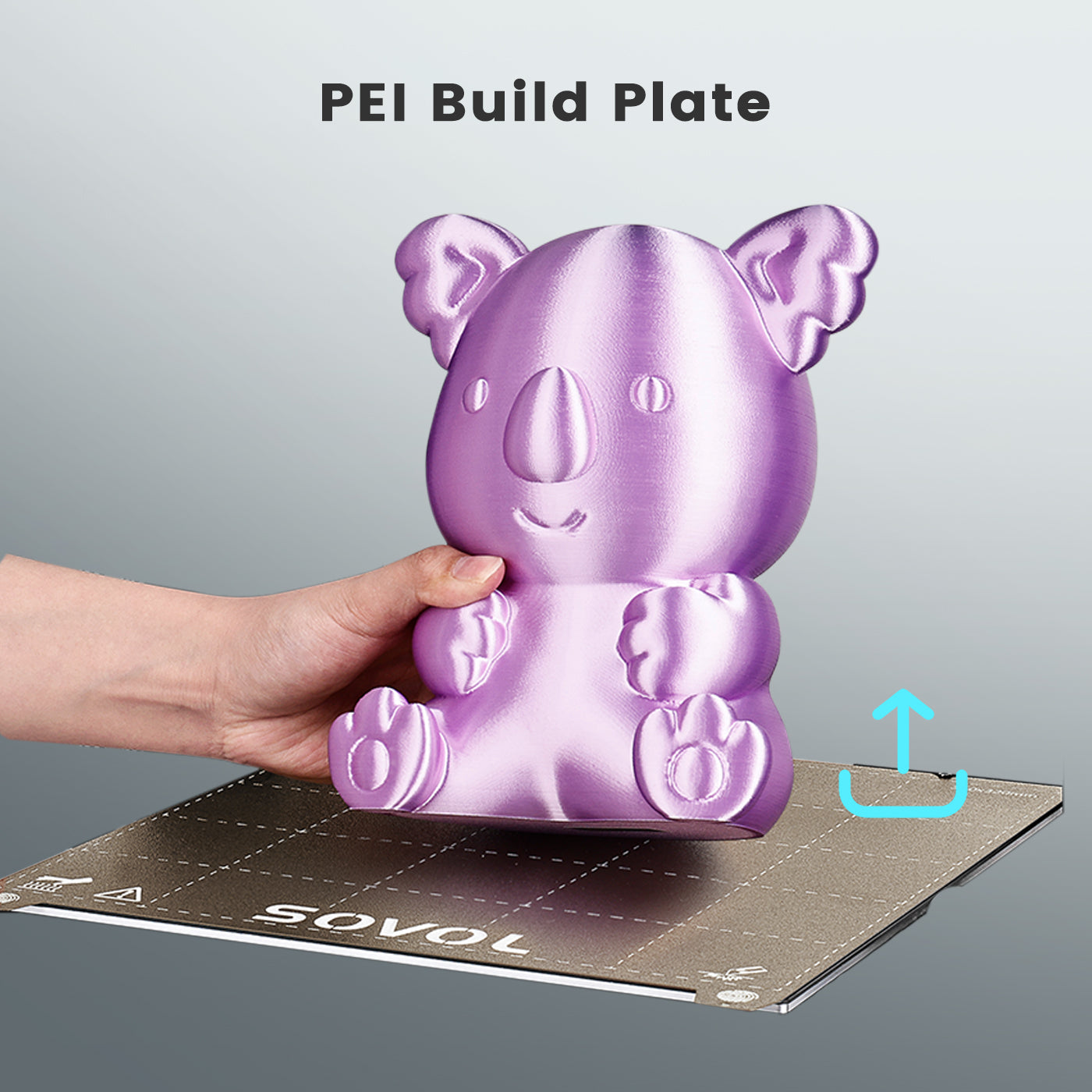 Dual Z-axis
Dual Z-axis screws and stepper motors improve the accuracy and precision of the nozzle's vertical movement with a specified Z-axis accuracy of 0.001mm
32-Bit Silent Mainboard
Sovol Self-developed 32-bit Mainboard with TMC 2209, makes the printer work stably and silently. For safety thermal runaway protection is instant & automatic if a thermal error occurs. UART mode is available, more modifications can be done easily for advanced users. (Not recommended for beginners to modify.)
PEI Build Plate
The flexible PEI-coated build plate with mesh surface design makes the prints can be removed easily without any tools.