Sovol SV07 Plus Large Klipper 3D Printer Max Speed 500mm/s 300mm*300mm*350mm - Only SV07 Plus / US
● Print Speed: 500mm/s
● Print Size: 300*300*350mm
● 5 Inch Klipper Screen and Wifi Connection
Delivery

Ship in two days
Delivery Time: 3-7 Days

Free Return & Exchange
Our 14-Day Money Back Guarantee, Free Exchange & No-Hassle Returns

Shipping from local overseas warehouse
*
Order will be fufilled within 8 hours.
Order will be fufilled within 8 hours.
Fraud Prevention: Your Payment is Safe & Secure.
● 1-year Warranty & 14-day Return for 3D Printer 
1 Month Warranty for accessories
Every printer comes with the warranty of 12 months, and we offer 14-day exchange/refund/return guarantee.
Learn more
● Technical Support
Sovol Support Team is available via email and live chat.
Join Sovol User Group to get tips from employees and community.
●Operation Language: English (changeable)
●Print Size: 300mm*300mm*350mm
●Print Mode: U disk, Type C Connection, Wifi Connection
●Max Printing Speed: 500mm/s
●Recommend Printing Speed: 250mm/s
●Printing Accuracy: ±0.001mm
●Nozzle Diameter: 0.4mm (Replaceable)
●Nozzle Temp: ≤300℃
●Hotbed Temp: ≤100℃
●Diameter of Filament: 1.75mm
●File Format Support: G-Code
●Operating System: Windows, Linux, Mac
●Power Supply: Meanwell 600W/24V
●Printer Size: 632mm*532mm*735mm
5 Inch Klipper Screen
Klipper touchscreen has great function options like height map and input shaper. It is customizable to suit your other printing needs.
Planetary Dual Gear Direct Drive Extruder
Sovol's Self-developed All Metal Direct Drive Extruder with dual gear, provides the SV07 Plus with a higher drive ratio and a lighter motor, making extrusion more accurate and printing flexible and elastic material easier.
300℃ High Temp All Metal High Flow Hotend
All metal hotend with larger melt zone enables SV07 Plus to print at fast speed and various materials, satisfying your demand for high temp and high speed.
LED Light
The LED light under the extruder helps you to observe the bed leveling process and how the first layer is going down, even in dim light. Make your prints look beautiful under the LED lights and be ready to show off your prints on social media.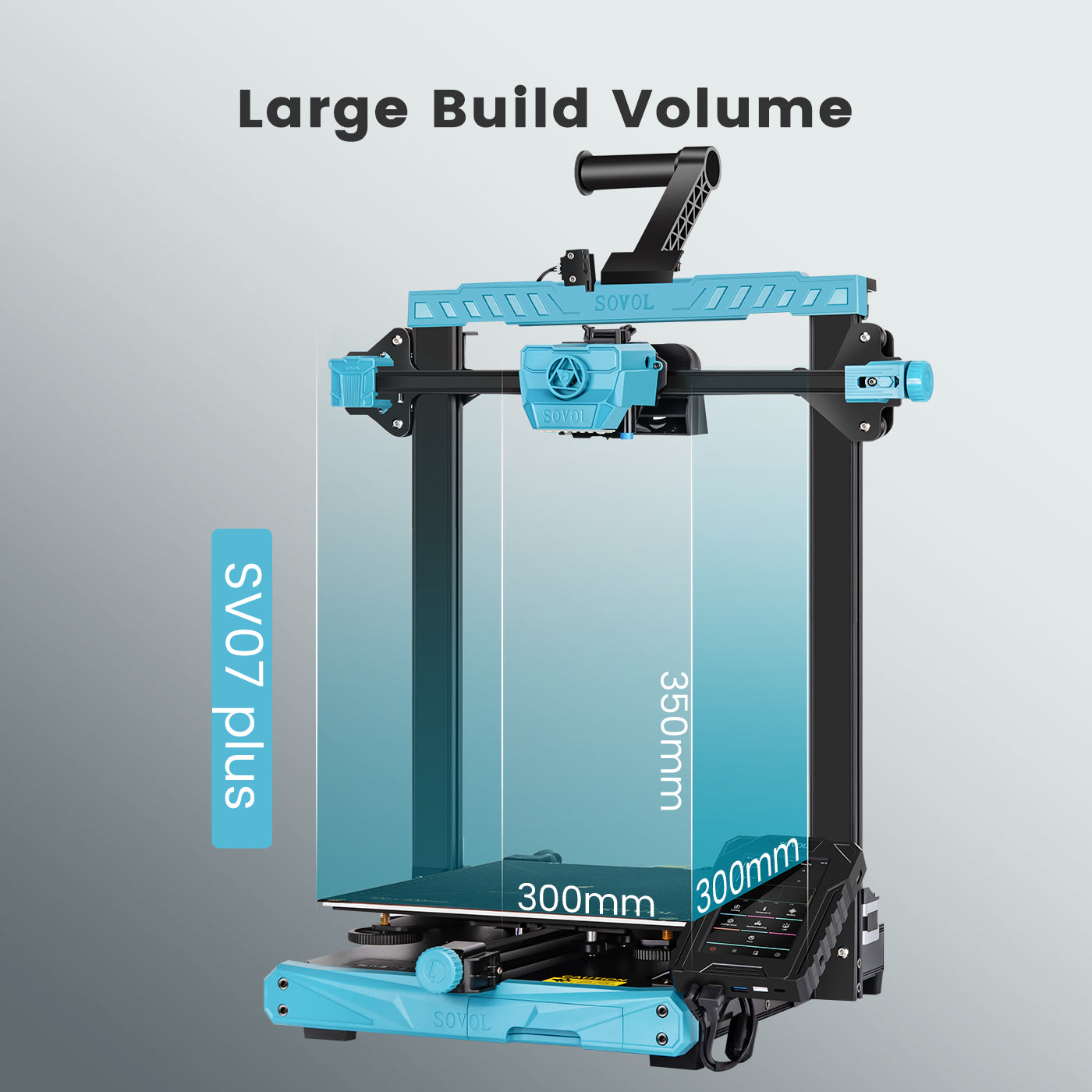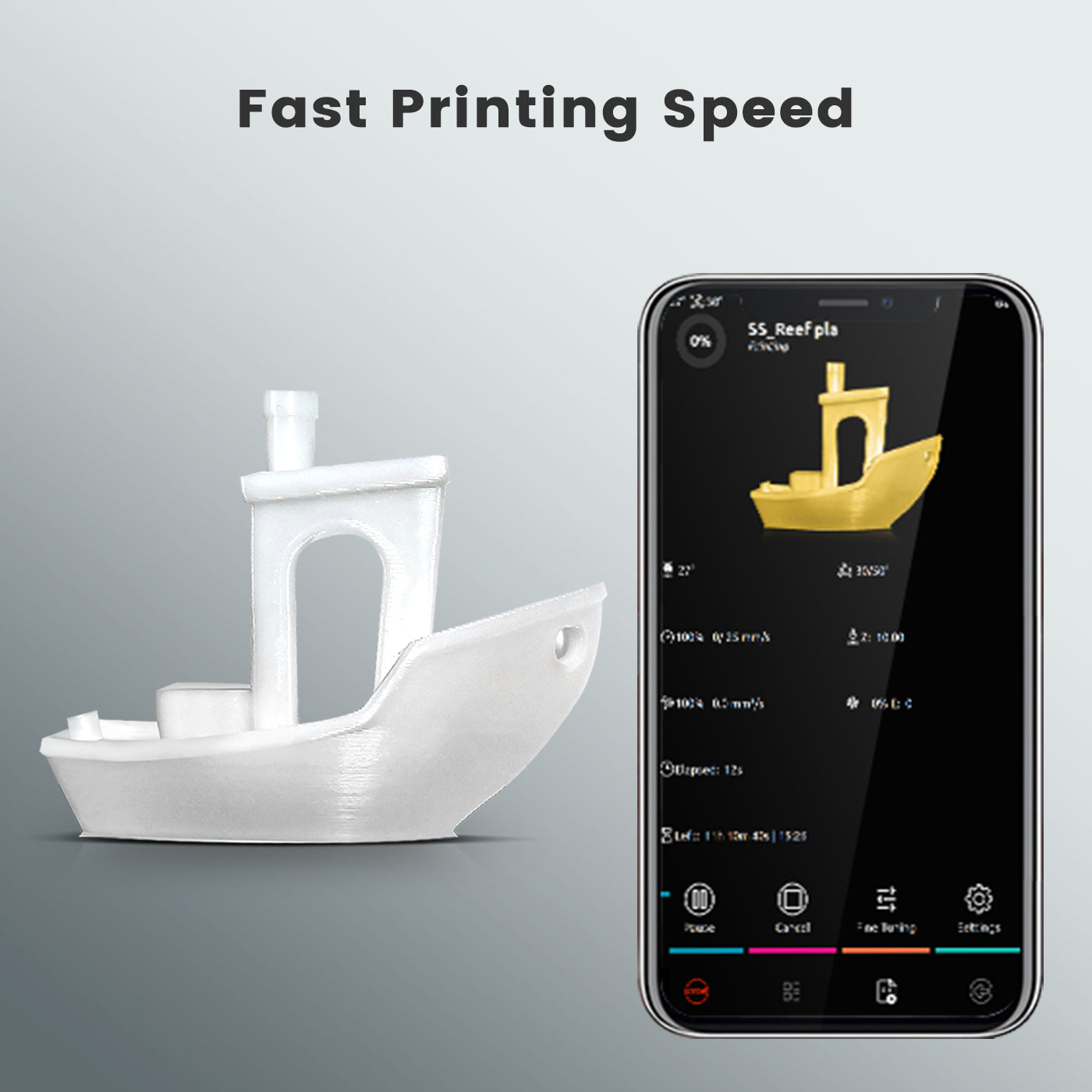 Large Printing Volume
300*300*350mm
Sovol SV07 Plus comes with a 300*300*350mm build volume, and adequate space great for larger models printing or batch printing with efficiency.
5 Inch Klipper Screen
SV07 Plus is equipped with a 480x800 high-resolution 5-inch touch screen which brings you totally different experience from the knob screen and normal 4.3-inch touch screen in the market. The detachable Klipper touchscreen also offers a range of function options, including the height map and input shaper, while you could DIY based on your specific needs.
Full Klipper Firmware
Powered by the ARM A53 64-bit main frequency quad-core processor, SV07 Plus brings you a high-speed printing experience of up to 500mm/s (250mm/s recommended).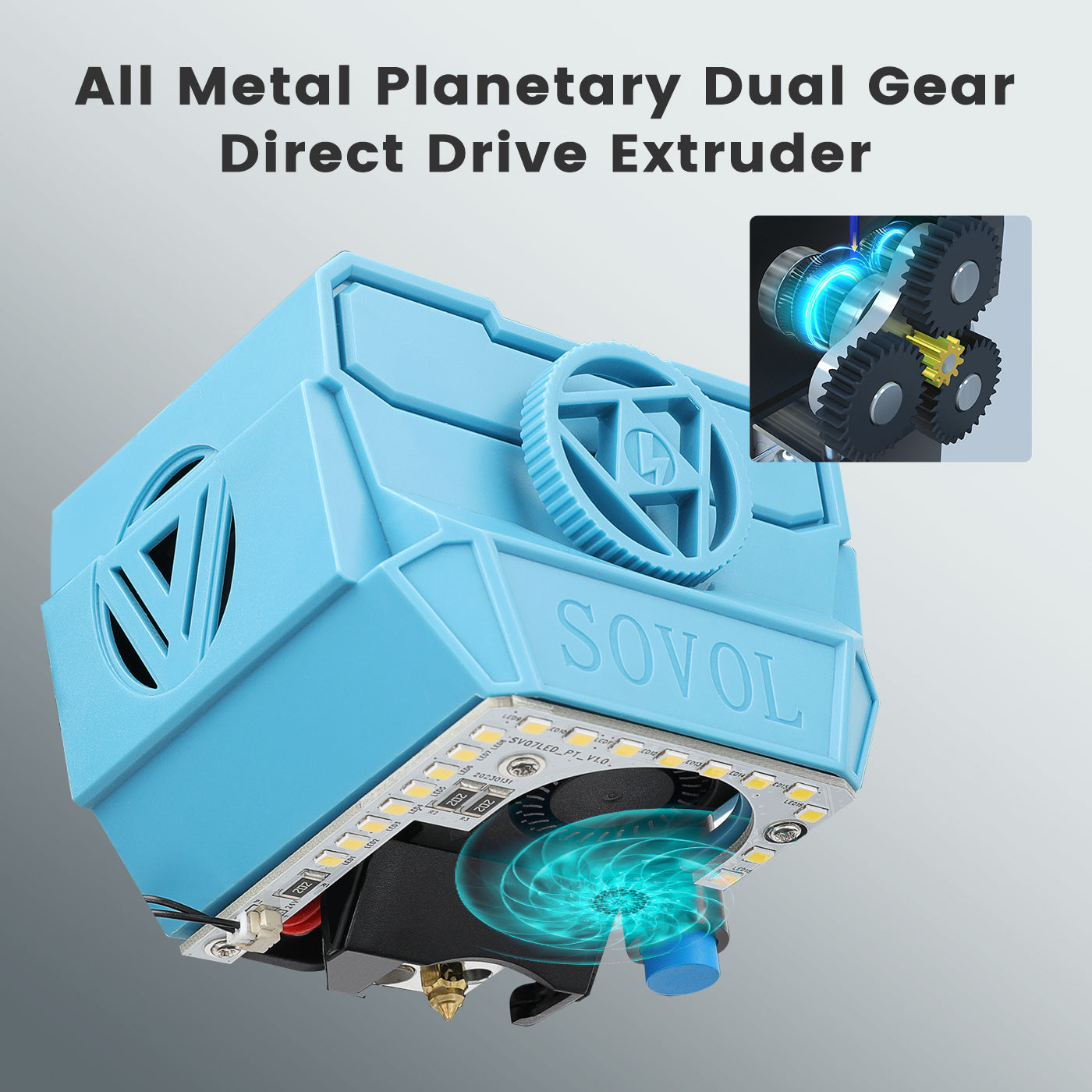 Planetary Dual Gear Direct Drive Extruder
With Sovol's self-developed Direct Drive Extruder that comes with a planetary dual gear set, SV07 Plus offers a higher drive ratio and lighter motor for precise extrusion. We also have added a large external knob to make feeding easier, so you can focus on your printing project with minimal interruptions.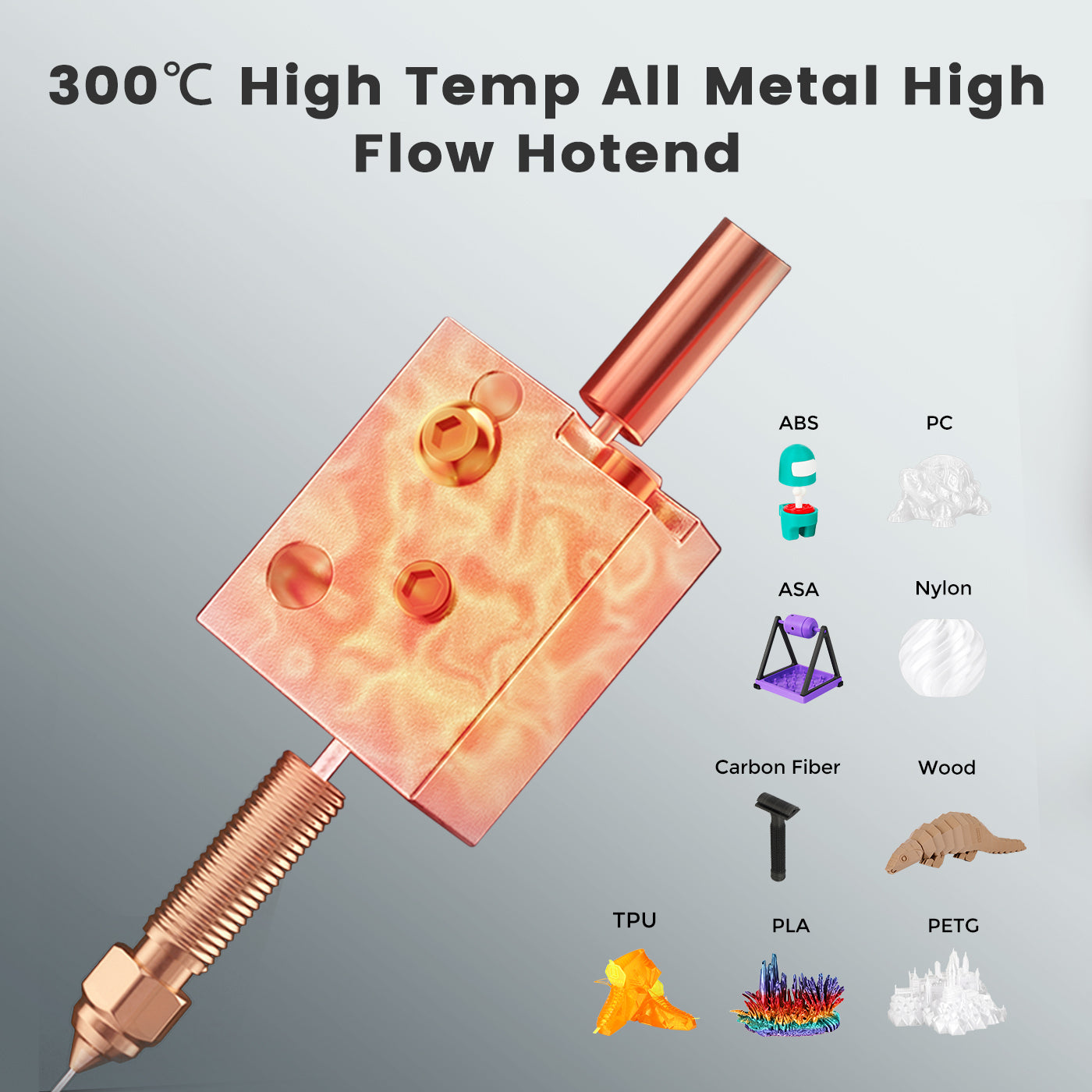 300℃ High Temp All Metal High Flow Hotend
All-metal hotend comes with a larger melt zone, which offers a high flow of up to 20-30mm³/s that greatly reduces the possibility of clogging. An extra large fan at the rear of the extruder offers triple airflows to quickly cool prints and ensures good layering for better results. It makes the high speed and high temperature possible at the same time. No more PTFE replacements or firmware flashes are needed to print with different materials easily, like ABS, Nylon.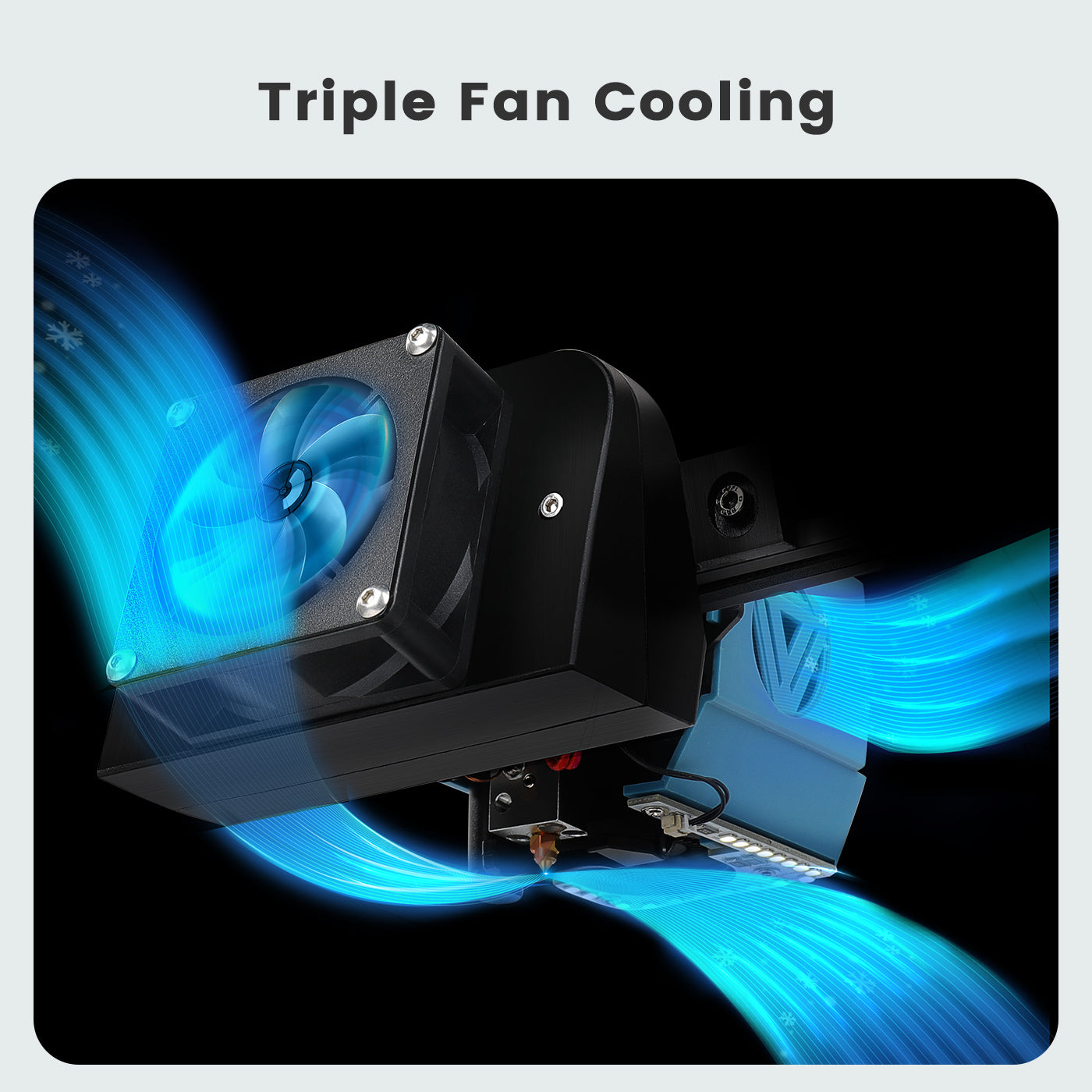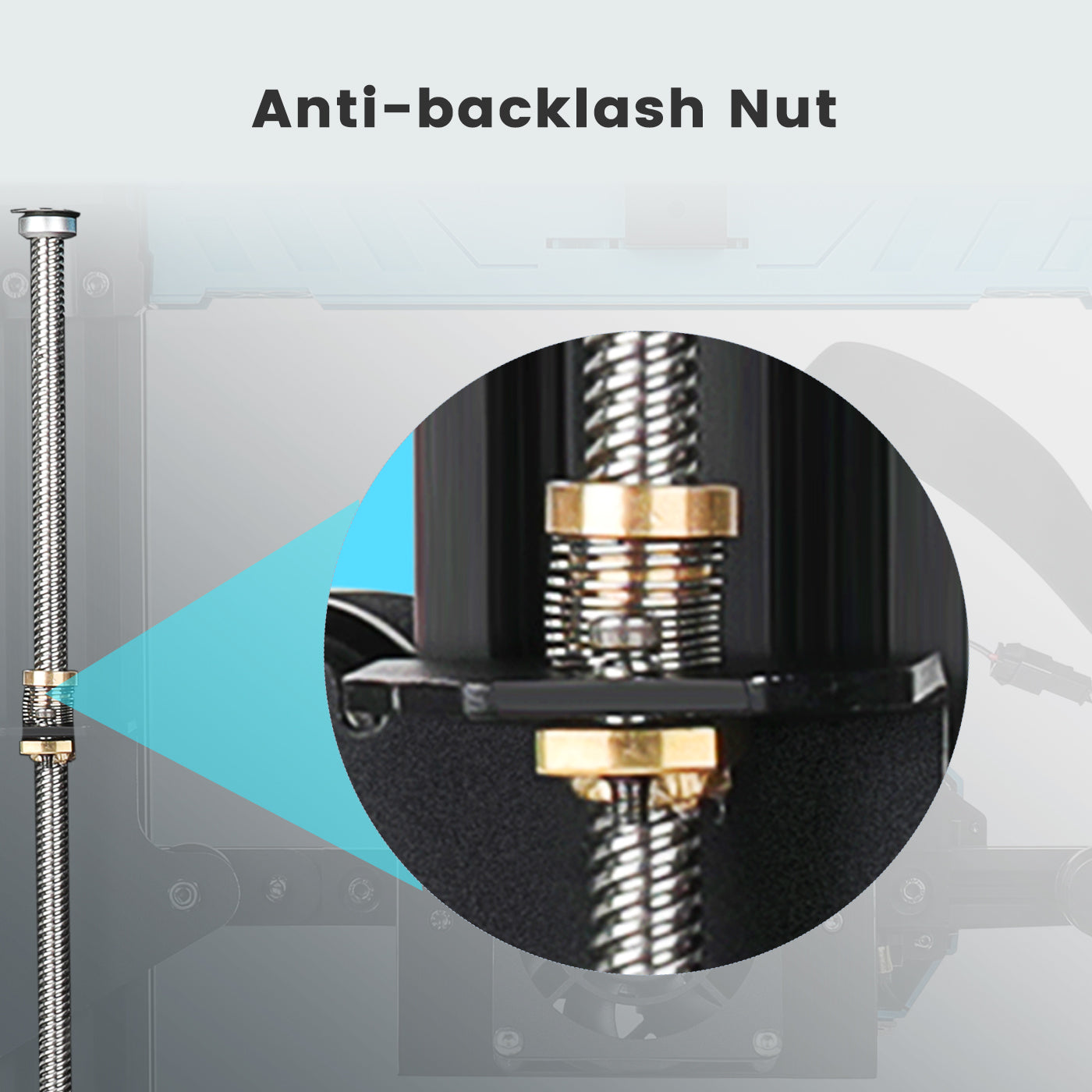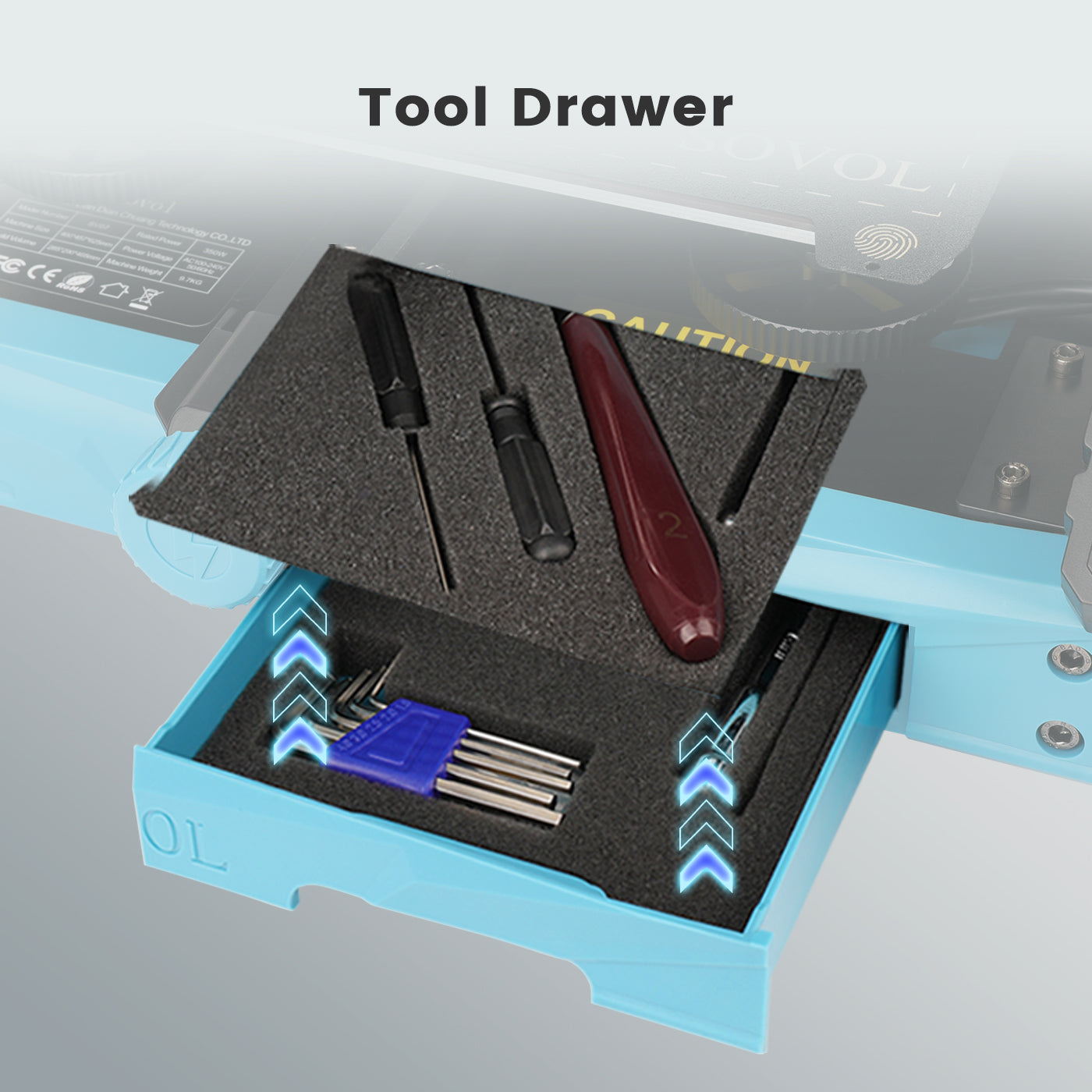 Improved Triple Cooling Fan Design
Triple Cooling Fan
With triple cooling fans, SV07 Plus will cool prints quickly at high speed and help you get beautiful layering.
Anti-Backlash Nut
Anti-backlash nut can reduce shaking when printing and make printing more stable.
Tool Drawer
It's very convenient to pull out the tool drawer for quick storage and easy organization. Keep your workspace tidy and efficient with this small upgrade.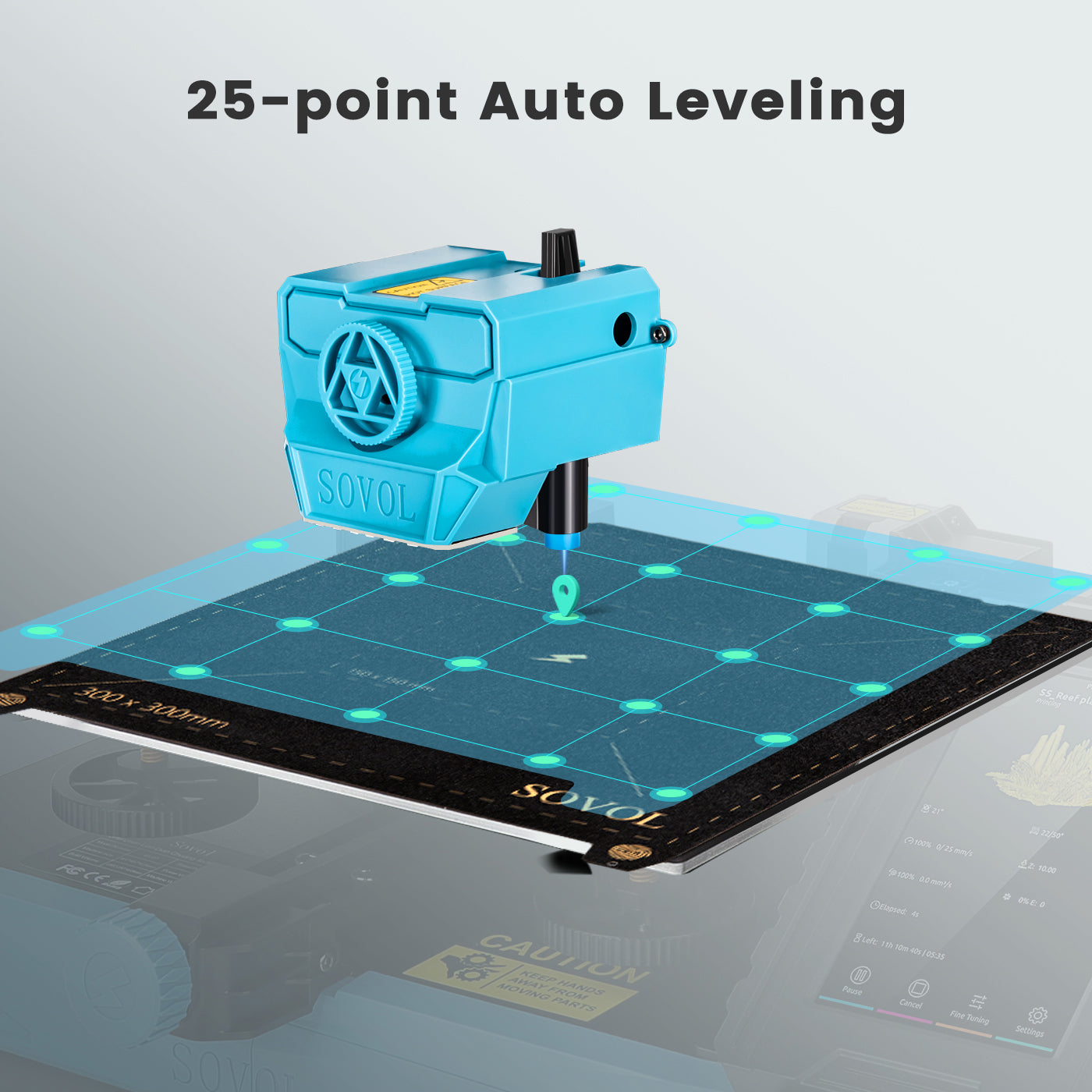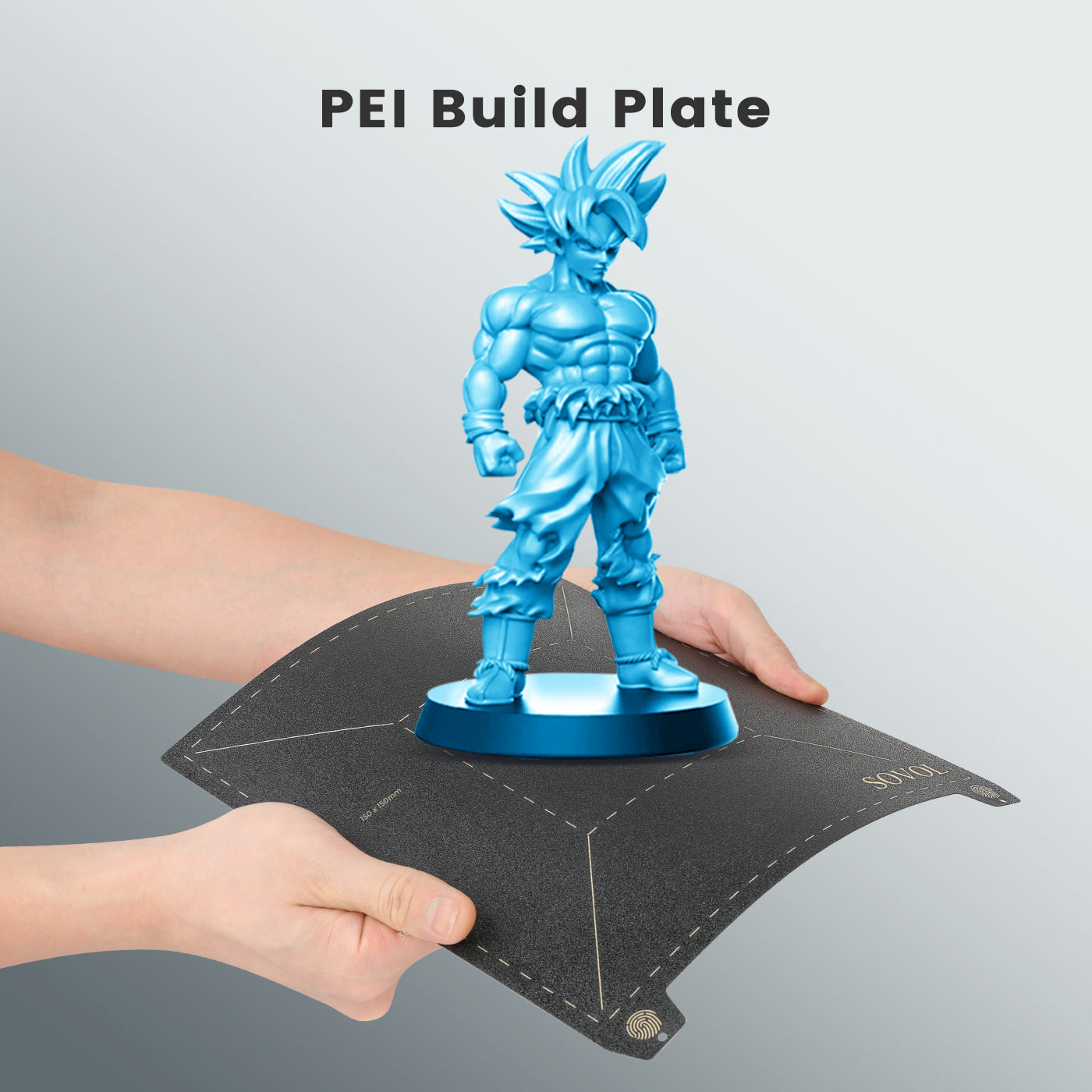 G34 Auto Z Align
As UART mode is opened on the SV07 Plus mainboard, and G34 is updated, SV07 Plus has the G34 Auto Z Align function. If you want to level the X-axis, all you need to do is click Auto Z-align, and the printer will process the X-axis leveling automatically. Saves time and effort.
25-point Auto Leveling
SV07 Plus features 25-point auto leveling with an inductive sensor to detect and compensate for unevenness in the heated bed. This precise and smart technology makes it possible to get a fantastic first layer. Note: Set initial layer height to 0.3mm when slicing will help you get optimal results. If you have any adhesion issues we recommend you to wipe the PEI surface with alcohol before the next printing.
PEI Build Plate
Stronger magnetic, good adhesion, super easy to remove the prints by hand, helps you enjoy the printing from start to end.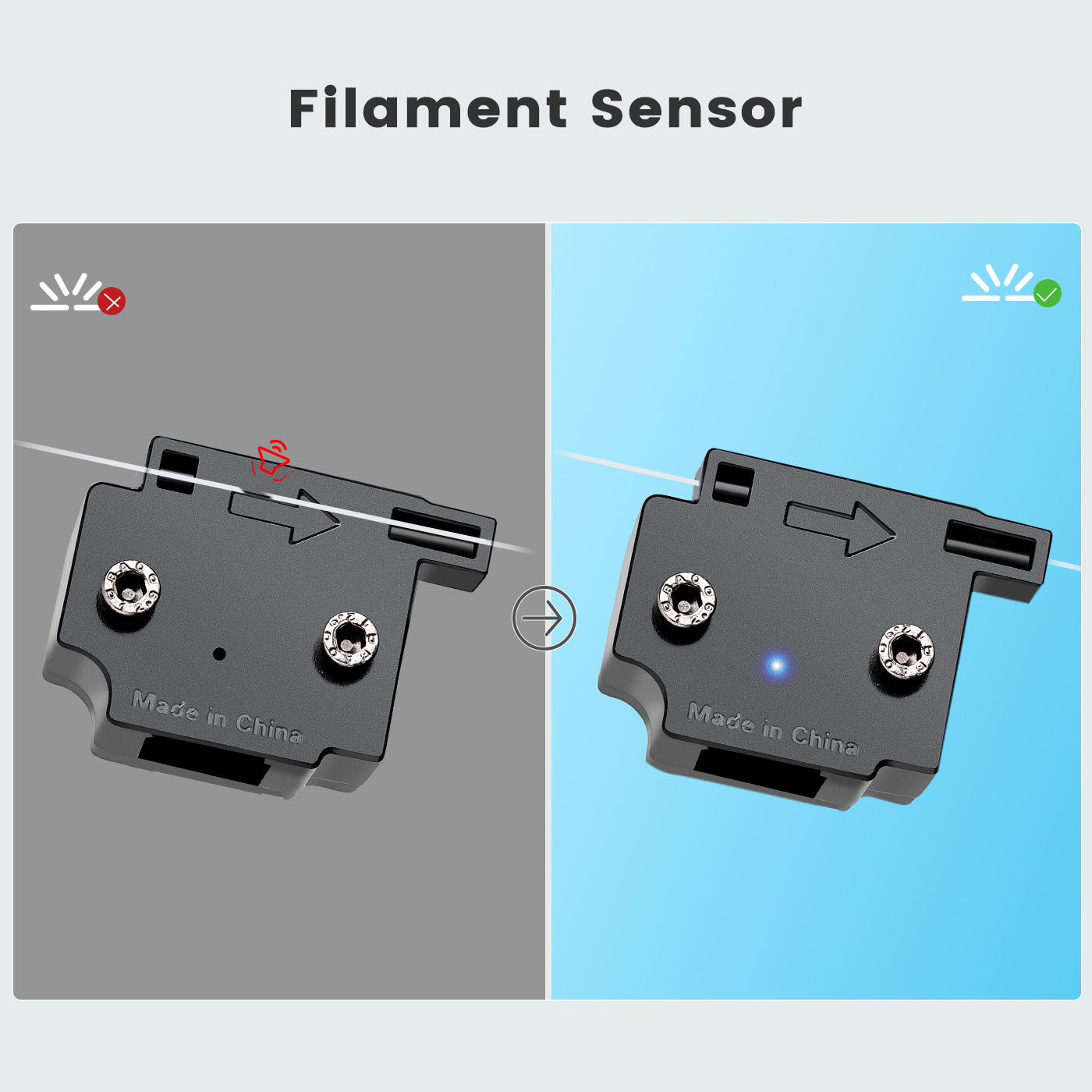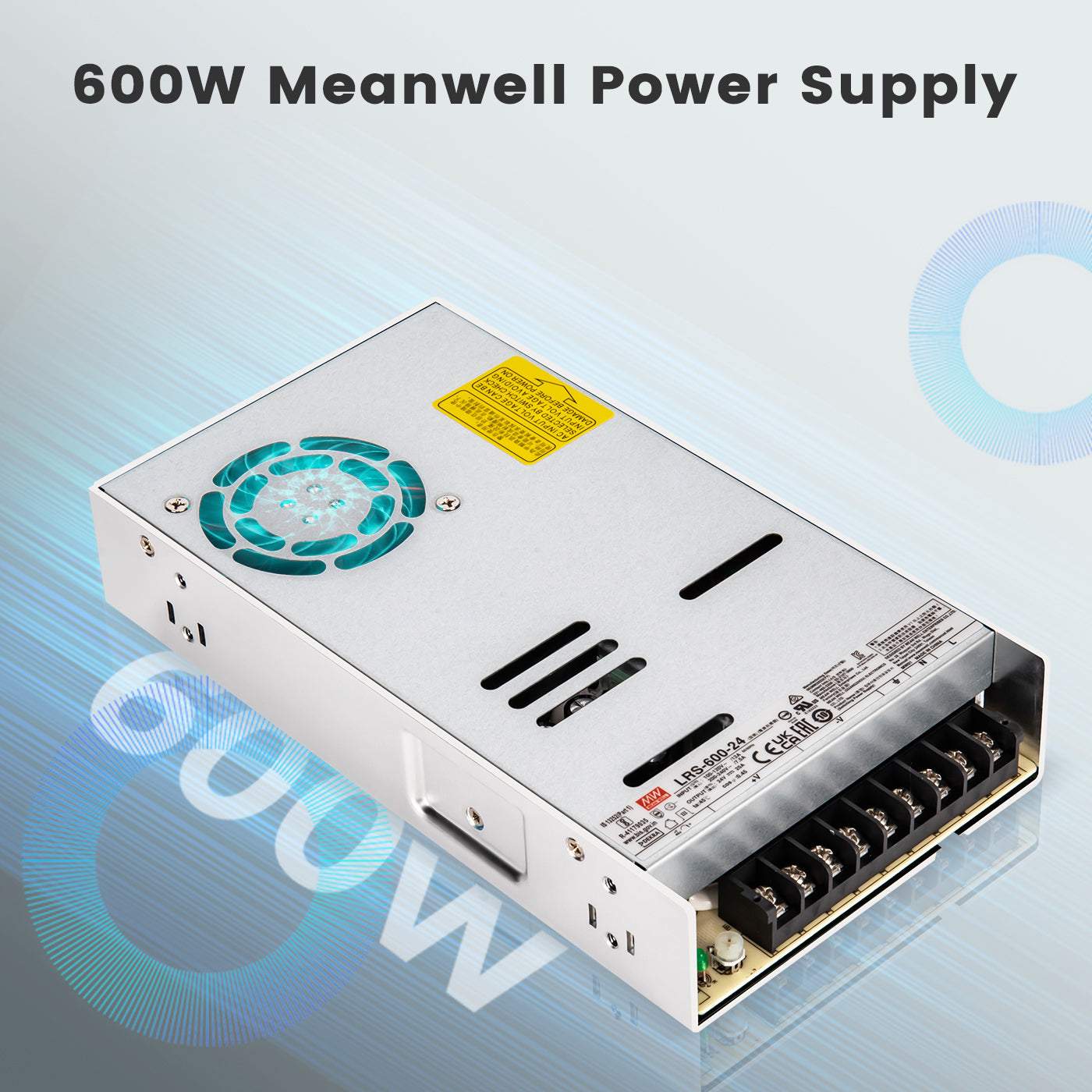 Filament Sensor
It will pause the printing automatically if you run out of your filament or if the filament is broken.
600W Meanwell Power Supply
SV07 Plus features a powerful 420W hotbed, reducing the heating time by about 30 seconds compared with the common printers. Its 600W Meanwell power supply also provides stable and sufficient power for your long-time printing.