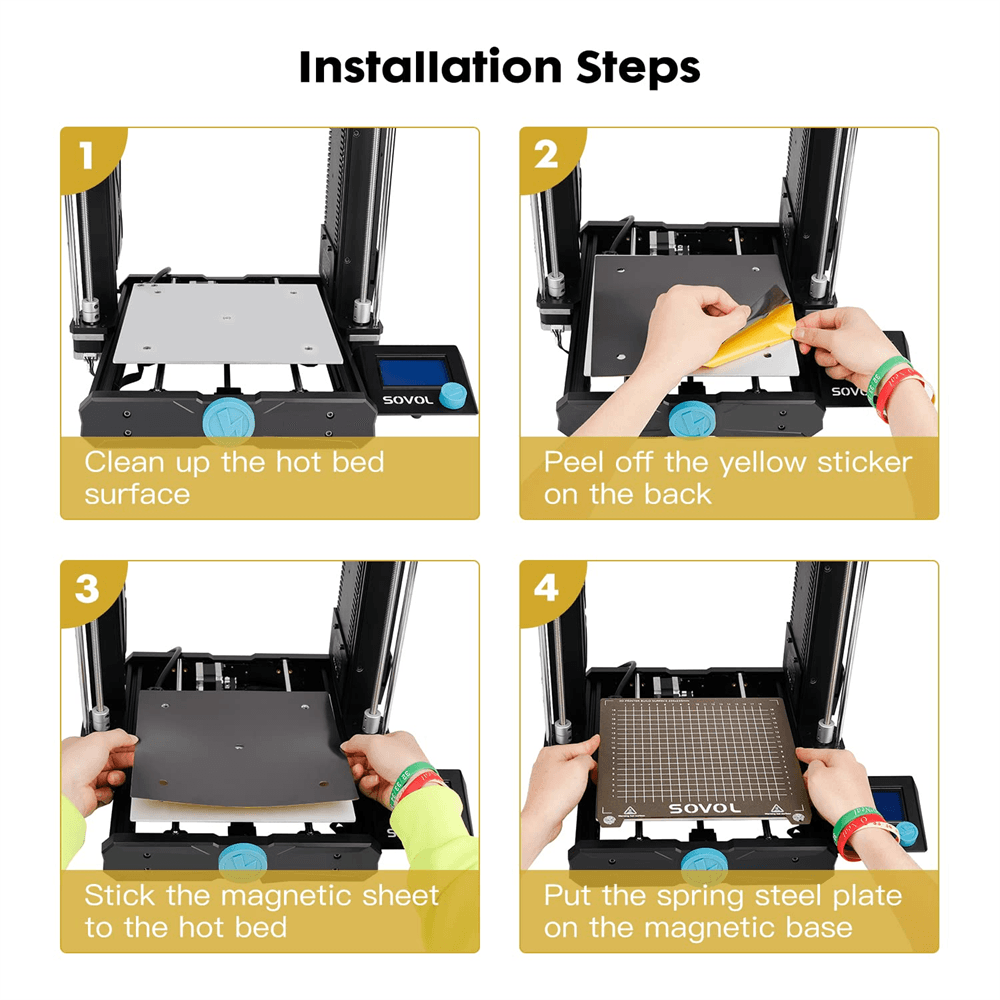 Sovol PEI Powder-Coated Flexible Steel Plate with Textured Surface and Magnetic Bottom Sheet - US (to US only)
for SV06/SV05
Ship from:
US (to US only)
Delivery

Ship in two days
Delivery Time: 3-7 Days

Free Shipping & 14 Days Return
Our 14-Day Money Back Guarantee, Free Exchange & No-Hassle Returns

Shipping from local overseas warehouse
*
Order will be fufilled within 8 hours.
Order will be fufilled within 8 hours.
Fraud Prevention: Your Payment is Safe & Secure.
● 1-year Warranty & 14-day Return for 3D Printer 
1 Month Warranty for accessories
Every printer comes with the warranty of 12 months, and we offer 14-day exchange/refund/return guarantee.
Learn more
● Technical Support
Sovol Support Team is available via email and live chat.
Join Sovol User Group to get tips from employees and community.
Features:
1. The SV06 PEI flexible steel plate is 235*235mm, and it is also applicable with Sovol SV05, Creality Ender-3 Pro, Ender-3 V2, Ender-3, Ender-3 S1, Ender-3 S1 Pro, Ender-5, Ender-5 Pro, Ender 5 S1, CR-20, CR-20 Pro, and similarly sized machines.
2. This PEI magnetic flexible plate is very easy to use, simply stick the magnetic bottom sheet onto your hotbed, then place the steel platform with the PEI surface on the top. The maximum temperature for a hotbed is 120℃. Please do not keep the bed heated at too high temp for a continuous long time. Give it a break between 2 prints. Long-time printing over 80℃ would possibly make the magnetic base sheet lose adsorption, even broken.

3. PEI Textured with Grid Marking: PEI textured surface is harder to come off, and more durable than smooth surface.

4. When printing is complete, let the spring steel sheet cool down enough (to around 40 ℃), then easily remove the prints. If the print is still stuck, just gently bend the steel plate and pop it off! After many times printings, lightly scour the surface of the PEI with some mild steel wool with 400 grit will have great adhesion, or use alcohol to clear it and let it dry.

5. Easy to install: Made of high-quality stainless steel and a strong magnetic base, stick the magnetic base to your printing build plate by peeling off the backing paper and sticking it onto your bed, then place the steel plate onto the magnetic base sheet.
6. Material: PEI powder+steel plate+rubber
Notice:
As SV06 uses an inductive auto leveling sensor, it can only detect the metal plate, we suggest that SV06 owners purchase the Sovol original PEI plate if you need it as a replacement.